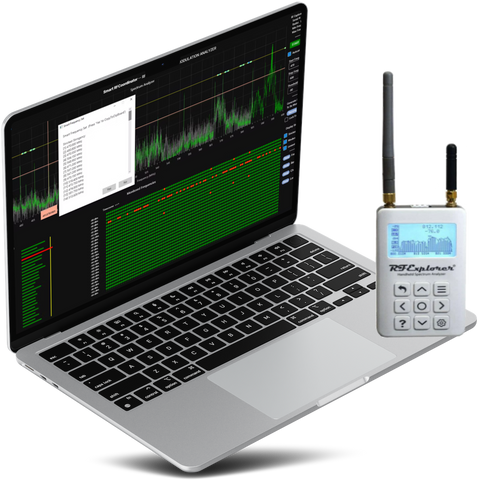 RFCoordinator -- RF Spectrum Analyzer & Frequency Coordination Software (Buy Now)
RF Coordinator is an advanced software application designed for the wireless, professional audio industry. Combining RF spectrum and intermodulaton analysis its computational engine rapidly generates frequency sets of intermodulation distortion-free (IMD-free) radio frequencies, applying the patented "Smart Frequency Set" algorithm. The resultant frequency sets are used for frequency coordination -- that is, assigning the most reliable channels to your wireless transmitters.
RF Coordinator runs natively under Windows and MacOS architectures -- both Intel x64 and Apple Silicon (M1/M2). When you register a license key it becomes associated with the serial number (S/N) of a specific RF Explorer device and NOT a machine. You are permitted to install the Windows and MacOS versions of the software on as many machines as you like.  However, during the registration process the license key you purchased becomes associated with a particular RF Explorer device and its serial number.  If you have only one RF Explorer device then you are good to go.  But if you have more than one RF Explorer device then each will require its own license key.
System Requirements:
RF Analyzer: Any model RF Explorer device connected to PC via USB cable that supports both power and data.
Operating System: Microsoft Windows 10 (or later) MacOS Catalina (10.15) or later, including both M1/M2 (ARM64) and Intel Core (x64) architectures.
Internet Connection: Required for activating the license key, registration validation and tracking the trial period.