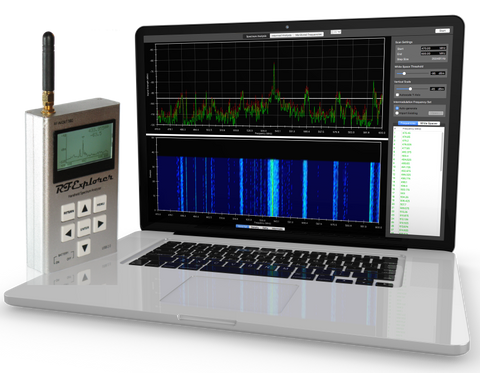 Clear Waves For MacOS -- RF Spectrum Analyzer And Frequency Coordination For RF Explorer -- Bundle #7 (WSUB1G)
This bundle includes both the Clear Waves For MacOS software and RF Explorer model WSUB1G. 
Clear Waves For MacOS is a new diagnostic tool specifically designed for the wireless professional audio and video industries. It is the industry's first, MacOS-based tool to offer RF spectrum analysis, intermodulation analysis and automatic charting of open white space (open RF frequencies) for use with wireless microphones, in-ear monitors, remote control, security, access control, etc -- all built into a single product. Clear Waves' unique combination of features -- providing the functionality of an RF Spectrum Analyzer working together with an Intermodulation Analysis software module -- make it an extremely versatile and powerful tool that extends beyond the bounds of traditional RF analyzers.
Clear Waves For MacOS uses the RF Explorer handheld spectrum analyzer for data acquisition. It turns data collected from the RF analyzer into graphical charts, displays in real time and performs intermodulation analysis -- enabling users to more readily visualize the RF environment, coordinate channel assignments for wireless transmitters, monitor RF signals, troubleshoot RF issues, and detect sources of RF interference.
Clear Waves For MacOS runs natively on MacOS 10.11 (El Capitan) or higher. Each license key that you purchase is valid for installing the software on a single machine.
Features:
Supports all RF Explorer models
RF spectrum analysis PLUS intermodulation analysis
Simulation mode
Save Traces in CSV Format
Monitored Frequencies Mode
5 diagnostic charts
For evaluation purposes feel free to download the software application. Without the RF Explorer device the software runs in a fully functional 'Demo mode' using simulated data.
System Requirements:
Operating System: Mac OS X 10.11 (El Capitan) or higher
RF Explorer Handheld Spectrum Analyzer
Internet Connection: For activating the license key