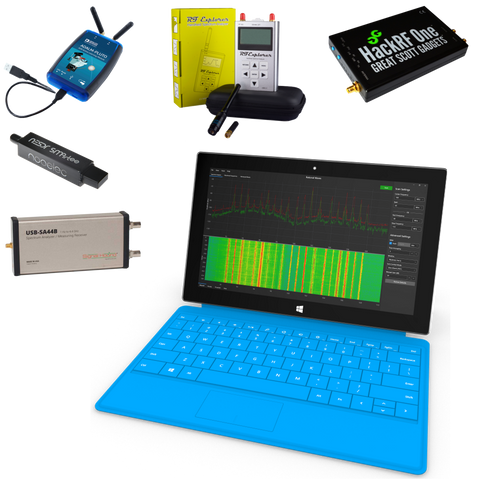 Rational Waves (for Windows) -- RF Spectrum Analyzer Software (Buy Now)
Rational Waves software turns data collected from RF spectrum analyzers into highly graphical charts and displays, enabling users to more readily visualize the RF environment, monitor RF signals, troubleshoot RF issues, and detect sources of RF interference.
Rational Waves runs natively on Windows 10 with .NET Framework 4.7.2 (or higher). It can also be run on MacOS when hosted by a VM such as Parallels Desktop. 
Features:
Supports Multiple RF Analyzers
RF Explorer
RTLSDR
ADALM Pluto
Signal Hound
HackRF
Diagnostic Charts
Spectrum Trace
Heatmap / waterfall
Density Chart
Delta Trace
Threshold Trace
Monitored Frequencies
Monitored Bands
Simulation mode
Export Traces in CSV Format
Each license key that you purchase is valid for installing the software on a single machine. Once a license key has been issued there are no returns. So, please, perform your due diligence before purchasing and confirm that (a) the software will work with your particular RF analyzer, and (b) it is suitable for your RF application. We have gone to great lengths to ensure your purchase goes smoothly and expectations are met.
To confirm your RF analyzer will work with Rational Waves we've developed the Device Compatibility Tester program. It is free to download and use.
To confirm that Rational Waves is suitable for your particular RF application and needs, feel free to download the application. Without an RF analyzer attached to your computer the software runs in a fully functional 'Demo mode' using simulated data.
System Requirements:
Operating System: Microsoft Windows 10, with .NET Framework 4.7.2, or MacOS running Parallels VM and hosting Windows 10
Internet Connection: For activating the license key