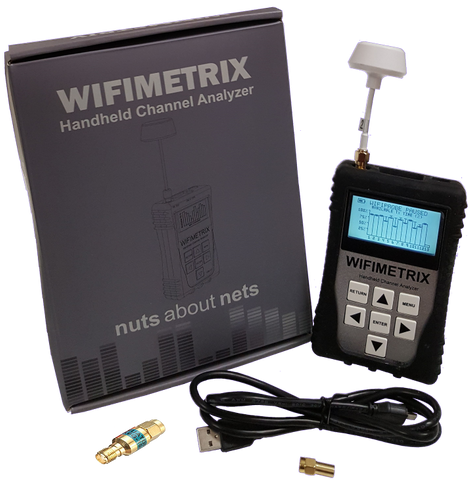 WifiMETRIX -- DFS Tester And Dual-band, Channel Analyzer
Sorry -- currently out-of-stock.  The global suppy chain problem and chip shortage has affected us, as well.  The last production run was scheduled last year and won't be available until September 2022 (we hope)...
WifiMETRIX is a new diagnostic tool used to analyze and test APs and Wi-Fi networks. It is a handheld device that operates in stand-alone mode -- that is, it does not associate or connect with an AP. WifiMETRIX implements three important features -- DFS Testing, WifiPROBE and AirHORN. The built-in 6 GHz radio module has been programmed to simulate radar signal patterns, and the built-in Wi-Fi chip can perform both signal generation / packet injection (AirHORN) and throughput diagnostics (WifiPROBE) on each channel. 
PLEASE NOTE: With regards to the DFS Tester feature, the current version of WifiMETRIX supports the FCC's radar types 0 - 5. The European Union also has DFS requirements -- ETSI radar profiles -- that specify the types of radar waveforms that devices operating in the 5250~5350 MHz and 5470~5725 MHz frequency bands should be able to detect. The current version of WifiMETRIX does NOT yet support ETSI radar profiles. Support for ETSI radar profiles is planned for an upcoming firmware upgrade expected around June 2020.

Features include:
6 GHz radio module, amplifier & filters
Dual-band 802.11 Wi-Fi chip
DFS Tester -- simulate radar signal patterns
AirHORN channel / signal generator functionality (packet injection)
WifiPROBE channel analyzer functionality
Solid aluminum case plus silicon rubber boot protector
Standard 50 ohm SMA antenna connector
128x64 built-in LCD screen
Includes dual-band antenna for 2.4x and 5.x GHz ISM bands
Includes micro-USB cable for recharging
Includes 50 ohm SMA terminator to protect antenna connection
Includes 6 GHz, 50 ohm 20 dB SMA attenuator (Male-to-Female)
SMA terminator (dummy load) also used for calibrating the device
Package includes WifiMETRIX device, dual-band antenna, micro-USB cable, 20 dB attenuator, and 50 ohm SMA terminator.